Welcome to The Music Connection, LLC.
We are located at 515 DeKalb Avenue in Sycamore, IL.
Registration is open year-round. Call for a free sample
lesson.
Spring Student Recital

— May 16th
**** video submission or Facebook Live ****
RSVP to Ben by May 10th:
info@themusicconnection.com
Lessons are taught either online or in person. Call for more details.
Covid-19 update:
To ensure everyone's safety during in person
lessons, parents, students, and teachers must wear
a face covering, wash hands, and maintain 6 feet
apart while in the building.
Let the Music Connection in Sycamore help you
reach new musical heights…one note at a time!
Summer
Lessons
2021
Registration is now open.
Summer lessons are scheduled
for
June 7th through July 30th.
Contact Ben to register:
# 815-217-5648
info@themusicconnection.com
---
All teachers are background checked through the
State of Illinois. Parents are welcomed to observe
all lessons and child engagement. Nothing is a
higher priority than your child's safety and well-
being.
Looking for a private music teacher? Call us to
schedule a free sample lesson!
---
---
The Music Connection voice instructor Darren Figgins selected as a winner at the NIU Concerto Competition!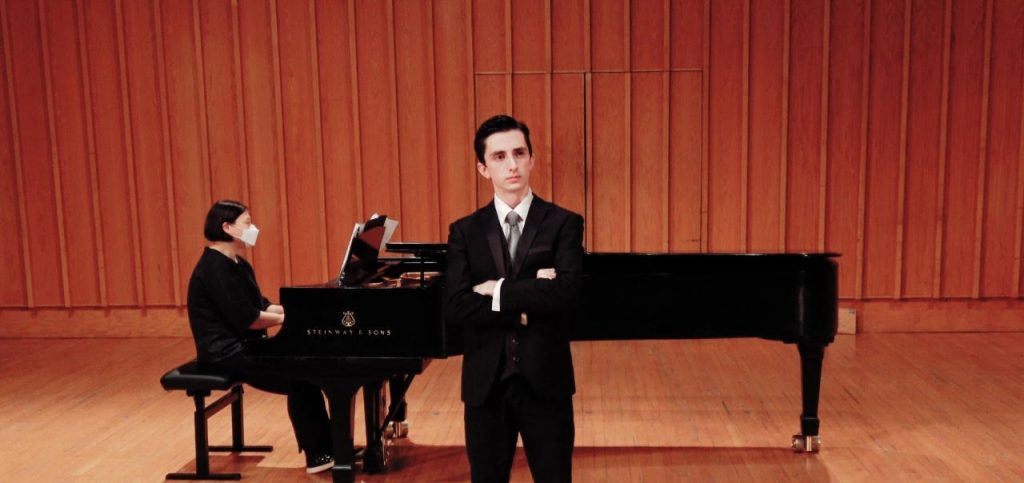 Darren is the voice division winner of the NIU Concerto Competition this year where he performed arias from Le nozze di Figaro and from the American composer Douglas Moore's opera, The Ballad of Baby Doe. The winner's concert will be held early in the Spring of 2021. Among other upcoming performances, Darren is also excited to present, "The Skeletons in Our Closet," a night of arias set to the backdrop of a family drama which unfolds as a deadly secret threatens to reveal itself.
UPDATE:
Jan. 27 (7:00 PM): NIU Concerto Competition Winners' Concert Webcast —- watch live online by clicking the link: https://www.niu.edu/music/performances/index.shtml
BIO:
Darren Figgins is a lyric baritone from Camdenton, MO currently studying vocal performance at Northern Illinois University. Darren performs collegiate, liturgical, and professional music across the Midwest with an emphasis in opera, art song, and oratorio. Darren's most recent operatic credits include Count Almaviva in Mozart's, Le nozze di Figaro and Samuel in Gilbert and Sullivan's comic operetta, The Pirates of Penzance with the NIU Opera Theatre. In addition to performance Darren also has a passion for teaching. He currently maintains a lesson studio in Sycamore, IL and has also taught abroad serving as an interim vocal coach at the Jane Adeny Memorial School for Girls in Kipsamwe, Kenya in 2019.
Congrats Darren! Call The Music Connection today to sign up for voice lessons with Darren.
Yamaha baritone (YEP-201) for rent or purchase
— great for a beginner
— great condition
— includes hard-shell case with valve oil, mouthpiece,
and other maintenance items
— contact Ben for more details:
# 815-217-5648
info@themusicconnection.com