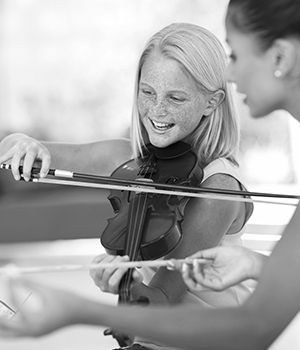 Music Lessons in Sycamore
The Music Connection is a full-service music lesson studio in Sycamore. Our instructors provide the most professional music lessons in the area. We provide high-quality lessons at an affordable rate. Our teachers have a passion for teaching students of all ages and ability levels. Sign up for music lessons today.
Call for your free 30-minute sample lesson on any instrument.
LESSONS ARE AVAILABLE FOR THE FOLLOWING INSTRUMENTS:
PIANO
WOODWINDS (FLUTE, PICCOLO, CLARINET, OBOE, ALTO SAXOPHONE, SOPRANO SAXOPHONE, TENOR SAXOPHONE)
BRASS (TRUMPET, FRENCH HORN, TROMBONE, BARITONE / EUPHONIUM, TUBA)
PERCUSSION (DRUM SET, KEYBOARD MALLETS, CONCERT / SCHOOL BAND, HAND PERCUSSION, RUDIMENTAL)
GUITAR (ACOUSTIC, ELECTRIC, CLASSICAL, MANDOLIN, UKULELE, DOBRO)
STRINGS (VIOLIN, VIOLA, CELLO, BASS)
VOICE (SOPRANO, ALTO, TENOR, AND BASS)
MUSIC TOGETHER (classes for newborns-age 5 with parents)
LESSON-DURATION OPTIONS ARE AS FOLLOWS:
30 MINUTES (MONDAY-SUNDAY)
45 MINUTES (MONDAY-SUNDAY)
60 MINUTES (MONDAY-SUNDAY)
LESSON RATES ARE AS FOLLOWS:
Rate (16 Weeks)

$30 = 30 min
$40 = 45 min
$50 = 60 min
"A la carte" = $1 per minute/scheduled anytime.   
REGISTRATION FEE — $20 per student, per semester.
Enrollment is open year-round so new students can start lessons at anytime.
Discounts are available. Call for details.