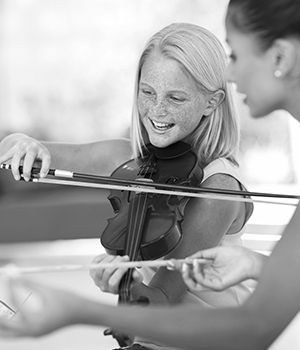 Music Services in Sycamore, IL
The Music Connection, LLC has been a provider of music services in Sycamore, IL since 2017. Our services range from rentals, repairs, and lessons. Our instructors provide the most professional music lessons in the area and we are fortunate to have garnered several 4 and 5 star reviews on Google. We provide high-quality lessons at an affordable rate. Our teachers have a passion for teaching students of all ages and ability levels and inspire them through professional instruction and performance! We have created a unique system of instruction that focuses on teaching solid and sound fundamentals that are coupled with proprietary resources.
Call for your free 15-minute sample lesson on any instrument!
LESSONS ARE AVAILABLE FOR THE FOLLOWING INSTRUMENTS:
Piano
Woodwinds (Flute, Piccolo, Clarinet, Oboe, Alto Saxophone, Soprano Saxophone, Tenor Saxophone, Baritone Saxophone)
Brass (Trumpet, French Horn, Trombone, Baritone/Euphonium, Tuba)
Percussion (Drum Set, Keyboard Mallets, Concert/School, Hand Drums, Rudimental)
Guitar (Acoustic, Electric, Ukulele)
Strings (Violin, Viola, Cello, Bass)
Voice (Soprano, Alto, Tenor, Bass)
Music Theory and Composition (taught by Dr. Timothy Bowlby)
"Young Rockers" cover band
and more…
LESSON OPTIONS ARE AS FOLLOWS:
20 MINUTES (MONDAY-SUNDAY)
30 MINUTES (MONDAY-SUNDAY)
45 MINUTES (MONDAY-SUNDAY)
60 MINUTES (MONDAY-SUNDAY)
LESSON RATES ARE AS FOLLOWS:
$25 = 20 min
$35 = 30 min
$45 = 45 min
$55 = 60 min
"A la carte" = $1 per minute/scheduled anytime.
REGISTRATION FEE — $15 per student, per semester.
Enrollment is open year-round, so new students can start lessons at anytime.
Discounts are available. Please call for details.